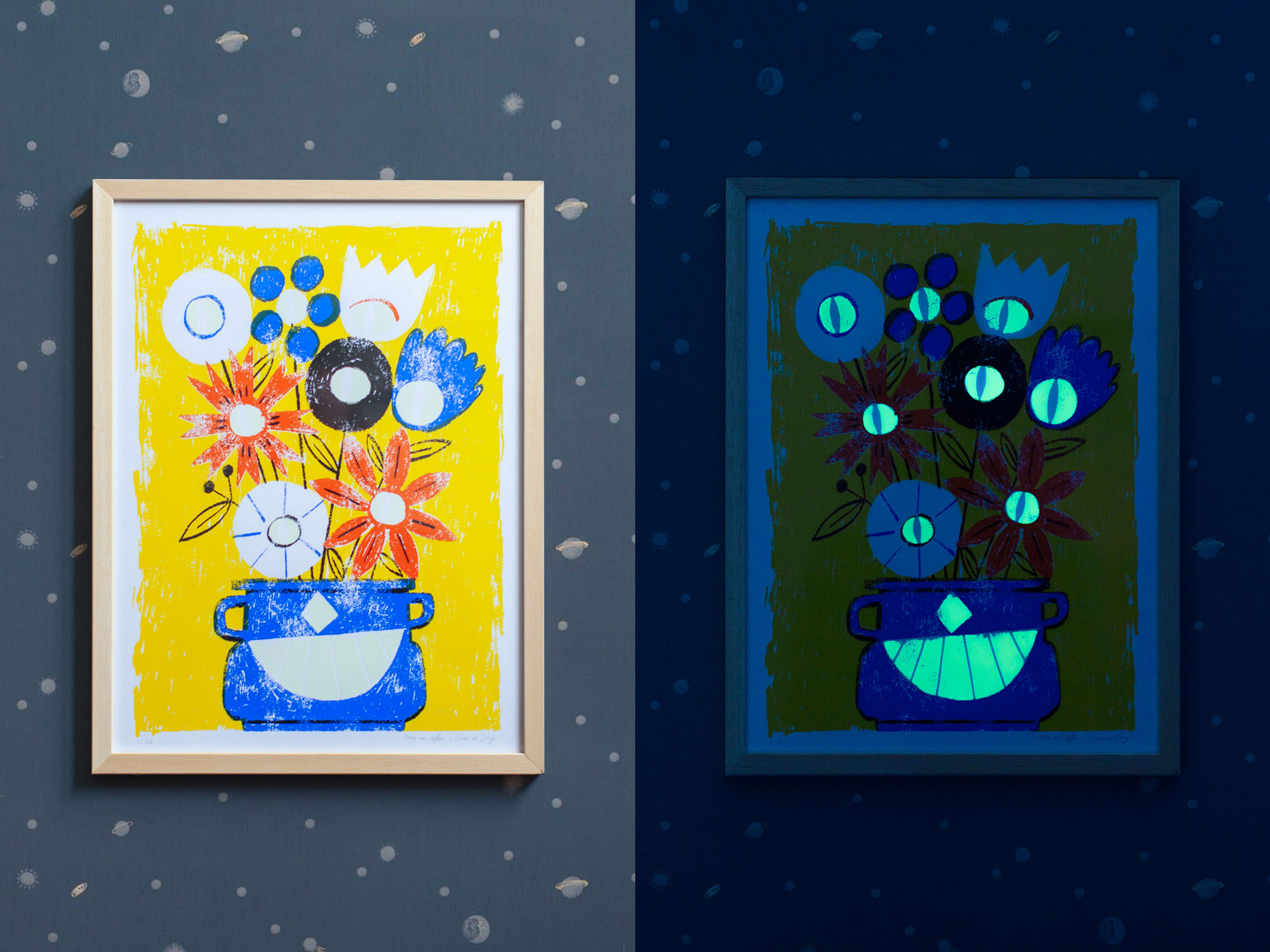 Bedtime Monsters
During the day they're beautiful and innocent still life paintings, but at night they come alive and transform into friendly little monsters! Bedtime Monsters are here to keep children safe at bedtime. The project plays with the given that mundane objects get a mysterious appearance in the dark, especially to the children. Hand screen printed with glow in the dark ink the Bedtime Monsters light up like a little night light to watch over the children.
Inspiration
In the dark a child's fantasy takes hold of them: Moving shadows over the walls and creepy little sounds are the biggest enemy's of a night's rest. With Bedtime Monsters we created a little buddy to keep them safe for all that scares them at night. A night light that watches over them and provide them with a good night's rest. 
During the day they're innocent colourful still lives, with classical subjects as themes. The still lives come in three different designs: A vase with flowers (available now), a bowl of fruit (available for pre-sale) and one which will be announced later. Each of these illustrations transform into a friendly monster at night.
Educational
Everybody has its own view on things. Whether it's art or our daily surroundings, from different perspectives we experience it in a different and often new way. Idris and Ivar took this quite literally: their design uses a day to night transformation to create a change in perspective. When a child has a Bedtime Monster in his or her room this is a first step at looking at things in a new light, or in our case: a new dark.
Limited Edition
The art prints are solely printed with bright colourful inks. Screen printed, signed and numbered by hand. The prints come in a limited edition of 200.
In collaboration with Idris van Heffen